Rory McIlroy und Jack Nicklaus im CNN-Interview
Der Moderator Shane O'Donoghue hat für die  CNN-Sendung "Living Golf" mit Rory McIlroy und Jack Nicklaus gesprochen. In diesem Doppelinterview sprachen beide unter anderem über ihre erste Begegnung nach den Masters, über die olympischen Spiele und Tiger Woods.
Hier das vollständige Transkript des Interviews:
Shane O'Donoghue, host of CNN's Living Golf:  And it is a great pleasure to have these two wonderful golfers here both celebrating anniversaries coming up.  Jack 50 years ago your incredible win at Oakmont and the first anniversary of your victory in the US Open. It was here at Muirfield Village that you had a chat with Jack was that the first time since the Masters or had you spoken on the phone?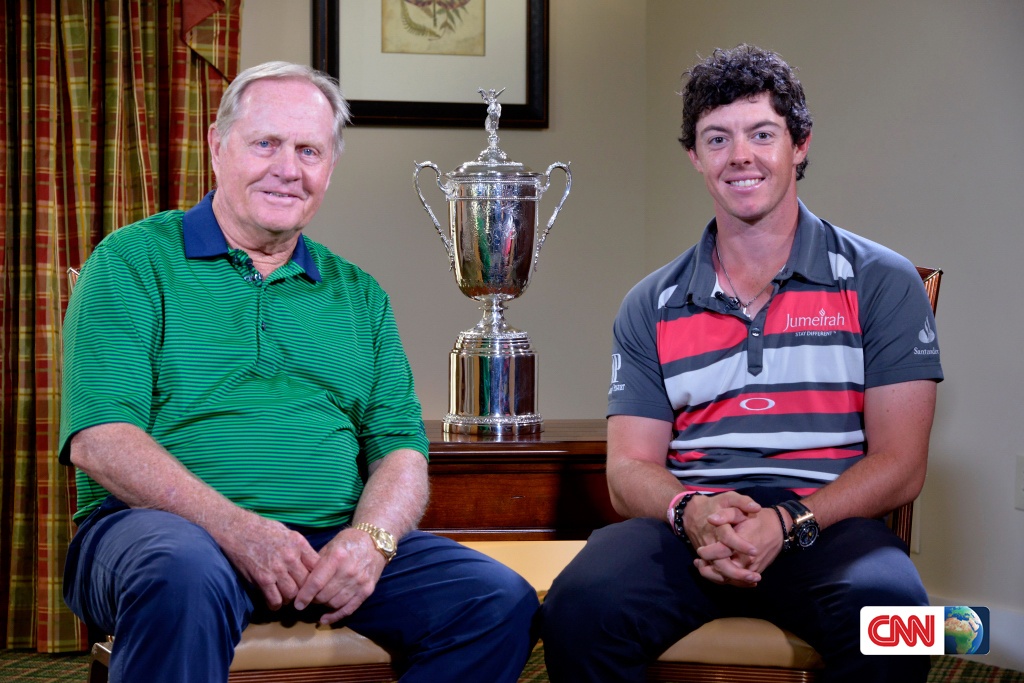 Rory McIlroy:  No, no that was the first time.  That was the first time that I had seen Jack since that final day at the Masters.  I think you said at some point I'm going to kick your rear-end or something like that…
Jack Nicklaus:  I wouldn't say a thing like that.
Rory McIlroy: Um but no it was a good talk it was only very brief but you know I remember Jack saying to me just about the pressure that you know you put yourself under and you have to relish that pressure and thrive off of it and that is something that Jack did for his whole career.
Jack Nicklaus:  I think I said umm did you learn anything? And he said I hope so, I think so, I think I know why I did what I did and what happened and what it is. And I said well it is really important that you understand what happened to you and you know not to make those same mistakes again. Watson screwed up.  Watson had led two PGA and a US Open and he messed up not knowing how to win.  I said that I gave away a US Open, well Arnold won at Cherry Hills, by not knowing how to win. I gave away a British Open not knowing how to win but I learned from it and that is why I asked him did he learn from it? And then he went right off next week to the US Open and he absolutely blitzed the field.  So I dropped him a note after the US Open and I said now you told me you learned something at Augusta and obviously that had happened, but more important did you learn something from your win? Because you know it is one thing to learn what your mistakes were but it is also another thing to learn how to win.
Shane O'Donoghue:  It is a big thing to get the Major early though isn't it?
Jack Nicklaus:  Yes he has got the monkey off his back right now.  It is gone.  Now he can go and play golf he doesn't have to worry about having people say he's a really good player but he has never won.  And you know the next one will come and it will come when it is ready to come and when they do they may start coming I may have to worry about him more than Tiger.
Shane O'Donoghue: Speaking briefly about Olympic you have not seen Olympic yet and you have a busy schedule leading up to it.  Is that the preparation to get those tournament rounds in, is that the way you feel that you will be best prepared?
Rory McIlroy:  Yeah I think so I think umm especially if you're maybe working on a couple of things in your game as I feel I need the competitive run, just to play my way into it.  I did it completely different last year that worked well.  I took a week off before the Masters this year and went…
Jack Nicklaus:  Did you play the week before the Open last year?
Rory McIlroy: No
Jack Nicklaus:  And you going to play a week before the open this year.
Rory McIlroy: Yes
Jack Nicklaus: I'll keep my mouth shut.  You're not going to see Olympic until you get there?
Rory McIlroy: Not until Monday
Jack Nicklaus:  Ok
Shane O'Donoghue: What do you make of Olympic Jack?
Jack Nicklaus: Olympic takes some knowing.  I wish he was going out to practise frankly but that is his call not my call.
Shane O'Donoghue:  You might make a little visit perhaps?
Rory McIlroy: Yeah umm I could still do that.  I could go here straight from San Francisco but that is a long way to go and come back.
Jack Nicklaus:  You know why I never played the week before the Majors? In 1962 when I first turned pro I played a week before the Masters.  People wanted me to play at this tournament and I didn't do well in the Masters.  I skipped that tournament the next year and I won the Masters.  I went back and played that tournament the next year and did not win the Masters.  I skipped the tournament the next year and won the Masters.  Skipped the tournament the next year and won the Masters.
Shane O'Donoghue:  Just a little advice there from the 18 time major winner. …. Jack Nicklaus… right?
Jack Nicklaus:  I am a big fan.
Shane O'Donoghue:  I know you are.
Jack Nicklaus:  I am a big fan and I want him to play well but I want him to you know get smart young.
Shane O'Donoghue:  You clearly are looking for something right now through tournament play to give you that edge.
Rory McIlroy:  Just that competitive sharpness more than anything else.
Jack Nicklaus:  Has it been a bit of a shock that you have suddenly lost something?  Or is that just the game of golf?
Rory McIlroy:  I think that is just golf.  That is the game of golf.   You're not going to play well all of the time and you are going to have periods of struggle where you find the game quite difficult.  Then you are also going to have periods where everything seems like it comes easy to you and um I think it is just the golfing gods or whatever it is up there just reminding me that you know what.. this game isn't as easy sometimes.  It is never easy to win but it is a lot easier to win when you play well.  The key is wining golf tournaments  when you are not playing so well.  Managing your game is something that I feel that I am still learning to do.  I felt this year that the Honda I won was a turning point for me because I didn't play so well from tee to green and you know my short game saved me and got me to win.  Yeah but that is the thing that just comes with experience.
Shane O'Donoghue:  Tiger Woods at the moment is trying to get back to where he was.  Where do you see him at the moment?
Jack Nicklaus:  He has so much talent and his work ethic is so good and his mental approach which is what is really in question I think has always prior to this been so good.  I don't think a swing teacher is what Tiger is really looking at.  He keeps talking about going back and working with a fella.  Tiger to me needs to go and be Tiger, go play golf and do what you have to do; rather than going back and trying to rely on somebody else to give you a hint of how to play.  I sat next to him at the Masters dinner this year and he gave me some great answers because I asked him the question, I said: 'you got to be the best teacher for yourself. Why do you need these?'  He said 'well it is just another pair of eyes and frankly I use my teacher to give me ideas but then I go and work on them myself'.  And so I said if you do that, ok, that is fine.  But I mean the press does not handle it that way, you don't read it that way.
Rory McIlroy:  I have played with him a few times this year and every time I play with him I have been very impressed.  I think like this guy is very close to doing something very very special and as Jack has said he works as hard as anyone on tour and he is working just as hard to get back to the level that he was 10 years ago.  I don't know if we will ever see that level again.  He is under such a tense amount of scrutiny and you know you really have to be head strong and believe in what you are doing.
Jack Nicklaus:  But we all go through it and that is the whole thing.  I went through the same thing that all these guys went through.  I remember I had the same problems I went from 1967 and 1970 right in the prime of my career without a Major.  I just worked myself out of it.  You know and then all of a sudden I had success at the 1970 British Open and I was back again.  If you've got a goal in mind I think it is so much better.  I didn't have a big goal in mind.  It was not until 1970 that I walked into the press room when Bob Green walked in from AP and says Jack it's your 10th major – only three more to tie Bobby Jones.  I had never added in my head I had no idea how many Majors I had won.   I just never paid attention to it.  From day one Tiger has had 'Tiger that is 1 you've only got 17 more for Jack, you've got 2, you've got 3' I never had that.  We didn't have that it wasn't a big deal.  And as soon as I had found that I was like yeah is that right I've got 10 yeah!  In those days we counted the amateurs and all of a sudden I though well Bobby Jones had always been sort of my idol as a record of what had happened and I really wanted to break his record.  This young man is a talented young player and anytime I can help him and give him some advice I am gladly to do so.  But I am also quite happy to stay out of the way, in anyway shape or form.  But if he wants me I am there.
Rory McIlroy:  Thank you very much.
Shane O'Donoghue: It has been a great pleasure spending time with both of you.  Rory congratulations on all of your success so far and as you go to defend your US Open title all the best of luck.  Mr. Nicklaus congratulations on a wonderful amazing career and the 50th anniversary of your first ever win in a Major.  It was your first ever professional win, it was the US Open and we have the trophy back there. It is shining and perhaps Rory you will be lifting it again.
Jack Nicklaus: He will be lifting it quite a few times.
Shane O'Donoghue: Gentlemen thank you very much.
Das komplette Interview wird  erstmals am 7. Juni um 11.30 Uhr auf CNN ausgestrahlt. Weitere Sendezeiten sind:

Donnerstag, 07. Juni um 18.30 Uhr

Samstag, 09. Juni um 23.00 Uhr

Sonntag, den 17. Juni um 23.00 Uhr
Anzeige: